Welcome to Perth PlayBack Theatre
Playback Theatre brings to life the personal stories within your workplace or community for you to reflect and enjoy. It is a dynamic inspiring way of engaging with your people to bring them closer together with heart, humour and honesty.
Perth Playback Theatre was founded in 1982 and continues to perform in Perth and tour regional WA. The Company is a member of the International Playback Theatre Network which fosters training, research and new developments in interactive theatre.
Here's what our audience says about their Playback experience
"Your guys were the hit of the weekend – people didn't stop talking about it!
 

You really hit the mark.

 

Please pass onto the team our sincere thanks."
Kaye Neylon, CEO of Kalparrin
"A brilliant way to open and really set the scene for the workshops that followed. I recommend Playback Theatre without reservation."

Noreen Flynn, Executive Director
State Conference of Carers and Carers Issues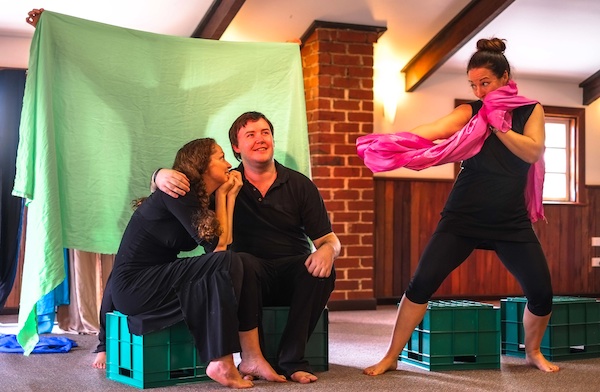 Past public events: Fringe (February 2016) International Women's day (March 2016) Fairbridge Festival (April 2016) Chrysalis School (June 2016) Seniors Week – Grandparents raising Grandchildren (November 2016)
Where is your Family? Who's Your Flock (Fringe, Jan 2017)
Coming up in 2019: Come back here in Feb 2019 to see what we have in store

Masterclass: Sunday, October 13, 10 – 4pm. <- details … & tickets -> here
Email us on perthplayback@gmail.com  and leave your contact details to be sent an eventbrite link for any of these events.
want to attend our Rehearsals – you can
We hold monthly Open Rehearsal's that anyone can come along to and enjoy taking part with Playbackers. see video here
We will provide a fun, active and safe way for you to participate, if you choose.
As part of our rehearsal approach we will demonstrate some of our playback "forms" to you. Our main aim in Playback is to honour the teller (the person sharing their story), which means listen respectfully, don't embellish your own ideas onto their character, and don't judge them if you don't agree with them. Bear in mind that our rehearsal offers us time to reflect, and deconstruct what  occurs, so is different from a polished gig.